Shilpa Shetty, known for her exquisite fashion choices, has often shown her fondness for sarees. Each saree she wears matches her body well, emphasizing her lovely shape. Shilpa looks stunning in every outfit, whether it's a bright silk saree or an exquisite chiffon drape. The sarees' rich embroidery and decorations highlight her contours, while the drapes delicately hug her torso, emphasizing her feminine beauty. Shilpa's blouses offer a bit of glitz, with different necklines and sleeve designs that wonderfully frame her upper body. Shilpa Shetty continues to inspire saree aficionados with her inherent sense of style and adaptability, easily rocking every saree and making it distinctively her own.
Let us see what Shilpa wore today
Shilpa Shetty captivated in a fascinating ivory-colored saree that displayed her great sense of style. The saree had an outstanding appliqué border with huge circles in a mesmerizing pattern, which added to its attraction and attractiveness. The contrasting colors employed – a vivid yellow at the pleats border and a deep crimson at the pallu border – make this saree really fascinating. This one-of-a-kind mix gave an intriguing depth to the outfit, making it a remarkable pick for any event. Shilpa Shetty's design choices continue to amaze, and this ivory saree with its exquisite intricacies exemplifies her ability to embrace elegance and innovation with ease.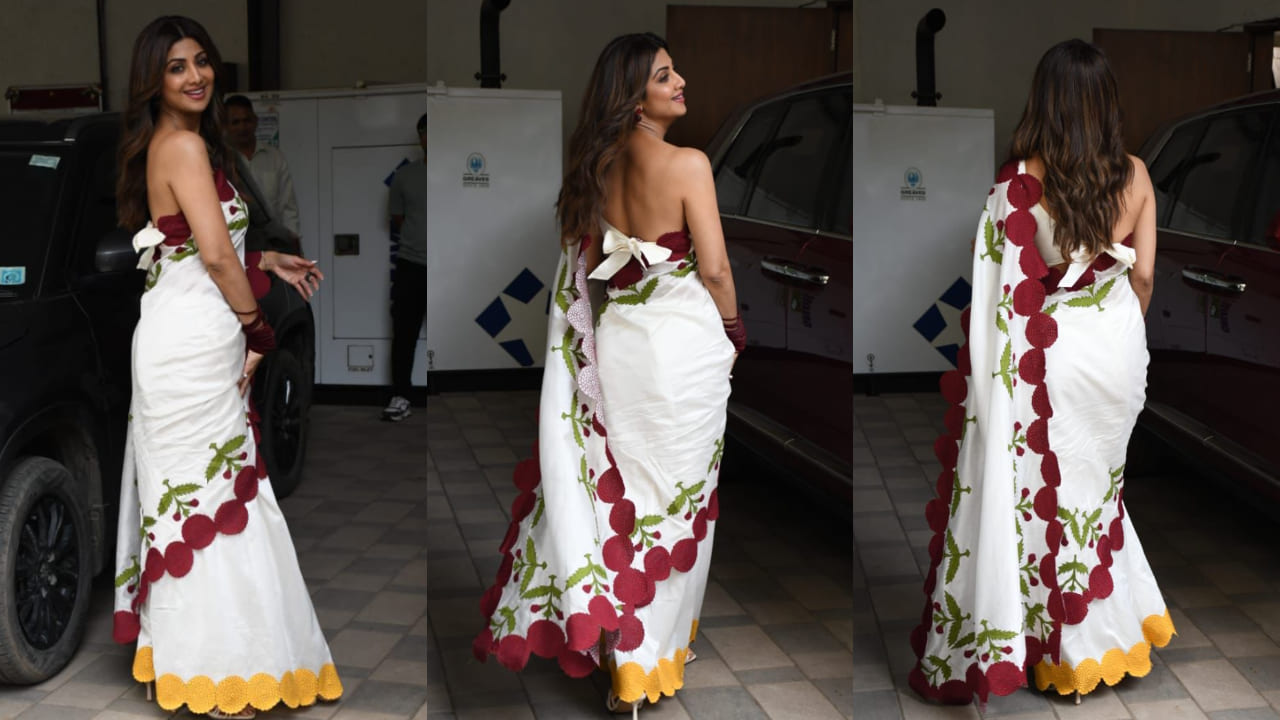 Shilpa Shetty looked stunning in a mesmerizing appliqué work saree from The Pink Post Inc., which showcased the excellent workmanship of Jaipuri patterns. This saree, priced at Rs. 31,360, is constructed of rich chanderi silk fabric that brilliantly enhances Shilpa's grace and elegance. The asymmetrical blouse, with a single shoulder strap and a beautiful bow knotted in the back, offered a modern edge to the classic attire. This saree is a genuine statement piece thanks to its elaborate craftsmanship, high-quality fabric, and novel design components. Shilpa Shetty once again demonstrates her fashion expertise, skillfully mixing tradition and innovation and establishing new fashion trends.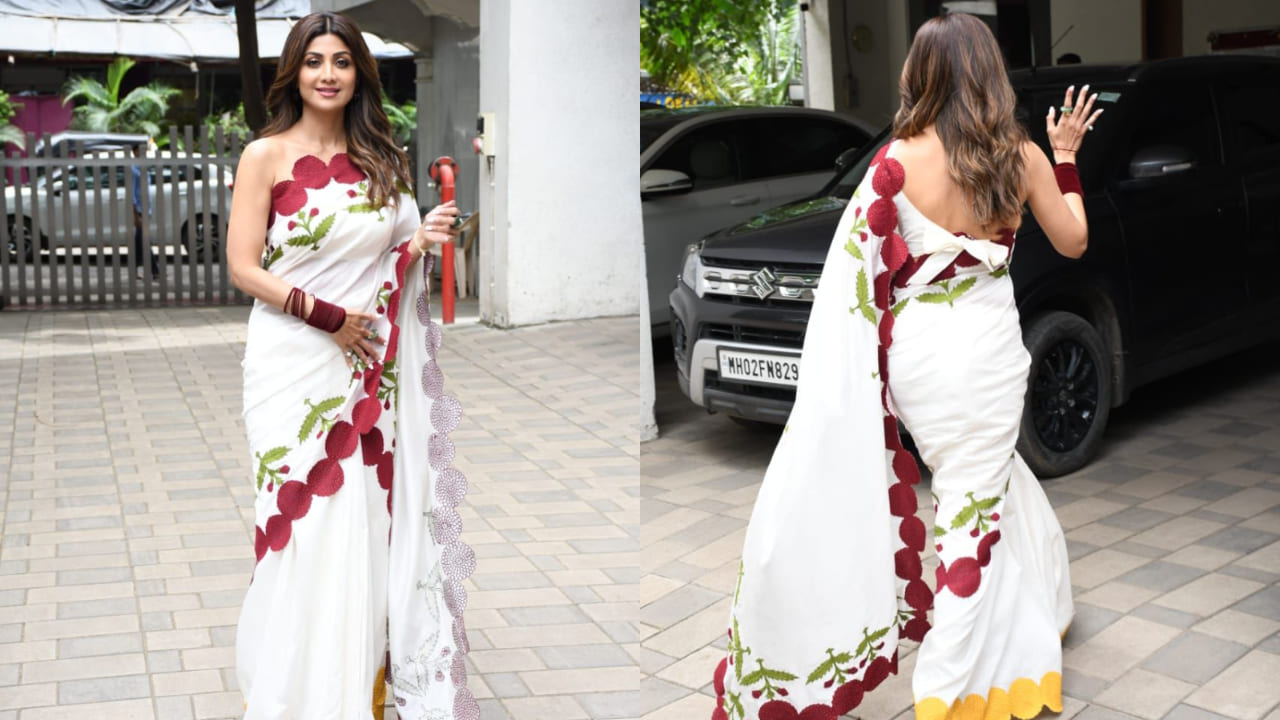 How does Shilpa accessorize the outfit?
Shilpa Shetty looked lovely in a magnificent red saree, which she accessorized with matching red bangles that precisely harmonized with the saree's border. Her hair was left open with a simple middle division, adding a sense of easy charm to the entire image. While the combination was already stunning, the addition of a striking neckpiece would have boosted it to a 10-on-ten look. Nonetheless, Shilpa looked stunning in this stunning saree, demonstrating once again why she is a fashion star. Her ability to seamlessly pull off any ensemble with elegance and poise is genuinely admirable, making her a fashion trailblazer.
Do you like this saree look? Let us know in the comment section below
ALSO READ: Bookmark these 4 Ananya Panday-approved floral dresses to make a statement