Nicky says that it was the COVID-19 shutdown that drew the brand to Paris. "Coming out of the pandemic, it gave us a chance to shake things up," she says, to push the brand further, to give it an audience it had never before reached. "We were just very excited to come back and show people who we are. I mean, who says no to Paris?"
As they say: Paris is always a good idea.
Resolutely Australian
Zimmermann is no longer just an Australian company, but it is, says Simon Lock, "the epitome of Australian style". In 1996, Lock launched Australian Fashion Week; Zimmermann was one of a clutch of brands to show in that first year and continued to do so, on and off, until 2013, when it debuted at New York Fashion Week. Lock says that when he had the idea for a local fashion week, it was so a brand such as Zimmermann could become global.
"That was the ultimate goal. They are everything the Australian fashion industry should be aspiring to."
And global they have become. The brand works with manufacturers across the world, from shoemakers in Italy to embroiderers in India. Nicky plans on travelling to Paris at least six times a year to build the brand's presence further in Europe. And the brand is now so coveted that fakes are increasingly an issue; the company has sought help in fighting off counterfeit manufacturers. But it remains resolutely Australian in spirit.
Previous collections have been inspired by everything from Number 96 to Countdown. In 2017, Nicky created a range based on photographs of students at the University of Sydney in the 1920s. One collection featured the works of botanist and illustrator Ellis Rowan, a collaboration with the National Library of Australia.
A 2019 collection imagined World War II hero Nancy Wake. Another was inspired by the sisters' own childhood holidays in Surfers Paradise. In 2011, when Zimmermann opened its first US store in Los Angeles, video footage of Sydney played in the boutique, directed by Australian Lorin Askill.
For its last show on Australian soil, the brand staged a runway spectacle at the Classic Throttle Shop in North Sydney.
This season, Nicky drew inspiration from Australian artist Rupert Bunny, whose paintings she borrowed from the National Gallery of Victoria while designing. The collection featured many known signatures of the house – guipure lace, 3D florals, stiff denim – but introduced lurex, chocolate leather (in jumpsuit form) and bouclé. The look was unrushed and relaxed. Australian, in the most elegant way. "We are Australian and we've never pretended to be anyone else," says Nicky.
Zimmermann would have been successful "in any country, at any time", says Lock. But the fact is, the sisters have leaned into their national identity in a way that others rarely do. It's not a Jenny Kee or Ken Done approach, but neither is it the neutral affectation of so many other local designers, whose work really could be from any country, at any time.
It's silk shirts with "Tama" (as in Tamarama Beach) printed across the front, paired with Western-style boots and denim flares straight out of 1976. It's trilby hats and tailored suiting and waterfalls of tiered ruffles. It's rope belts and shell buttons. It's bowerbird, it's slightly chaotic, it's ultra-feminine – and it's very, very cool. Because that lace print is, actually, when you look up close, a pattern of globes, repeated across the skirt. And those applique flowers are hand-applied, one atop the other, like a bouquet might be assembled. And the ruching of the silk is cut to end just below the bust, accentuating the area while flattening, and flattering, others.
"They have been able to capture the spirit of resort wear in an international, cultured, sophisticated way," says Lock. "It's not that stereotype of what Australia is. It's not beachy in the way we've thought of it before. It's beachy in the way the Hamptons or St Tropez are beachy. It's a vision of Australian resort life that's not budgie smugglers."
And it all began in 1991, when then-fashion director of Vogue Australia Judith Cook noticed a shirt, with applique details and a vintage vibe, worn by her assistant. Valeryi Yong explained it had been made by her friend and fellow graduate from East Sydney Tech, Nicky Zimmermann.
"I remember thinking, 'that is fabulous'," says Cook. "It was . . . uplifting. I wanted to shoot it right away." Which she did, as part of a fashion shoot on location in New Orleans. "It was as distinctive then as it is now," says Cook. "Nicky had it from the very start."
A family affair from the start
Zimmermann, the brand, is synonymous with the beach, but it's a little further south than one might assume. Simone and Nicole Zimmermann, born three years apart, hail from the Sutherland Shire; Sylvania Waters, to be exact. Their parents, Joan and Eric, owned a spray-painting and smash repairs shop. Joan sewed her own clothes, and Simone and Nicky's, too. The beach was a constant; on weekends, they swam at Cronulla, holidays were spent at Surfers Paradise.
For Nicky, the goal was always fashion design. "There was nothing else I could do," she jokes, sitting in her Sydney office. "Simone probably could have done anything." Now the label's chief operating officer, Simone started in computer marketing in the mid-80s, a role that was well suited to her methodical mind, but one that lacked excitement.
"As soon as Nicky started at the markets and I was in and around it, I just thought it was amazing," she says. "The chance to start our own business was very attractive. For me, it was about working with her, doing that together."
In 1991, Nicky, fresh out of East Sydney Tech (now the National Art School), started making clothes to sell at the Paddington Markets. Simone helped out, and so too did Nicky's friend from design school, Marie-Claude Mallat, who, all these years on, is still their publicist.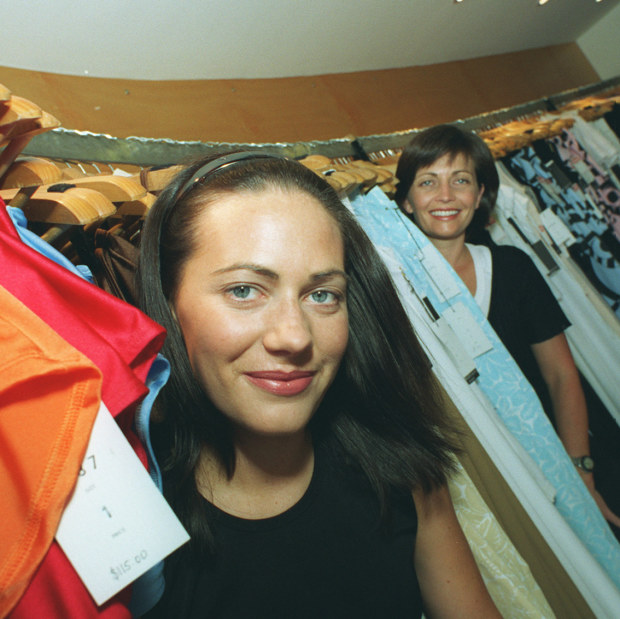 "We started with a Christmas market," says Nicky. "My mum came with me and helped. I made everything on my overlocker in my parents' garage. It was a very basic set-up." Basic, and a family affair from the start: dad Eric pitched in, too, asking a welder friend to make racks for Nicky's market stall.
At the time, says Nicky, Paddington was "thriving". "Herds of people would ooze up the street on a Saturday," she says. "There were a lot of emerging designers, people who had started at the markets and then they would open a store. And at the end of the day, you'd finish at the pub, having a beer with your mates." It was a time to have a go, make mistakes. It also allowed the sisters to interact with their customers and figure out what they wanted.
"At the markets, you are face-to-face with people, asking what they liked and dealing with what they didn't," she says. "That immediate feedback, it was quite amazing." It enforced in both sisters a sense of responsibility to the customer, something that has never left them.
"We worked in the stores in the early days," says Nicky. "And something you learn very early on is that people are parting with their money for something you have made. So it had better be good. It's very important that they are buying something made with care and love and patience. We still talk about that every day – will they love it? Will they keep it for a long time? Is it worth it? We never take that lightly."
In 1993, they opened a small boutique on South Dowling Street, just off Sydney's Oxford Street (and not too far from those markets, where they still held a Saturday stall). In The Sydney Morning Herald, the brand was named one of fashion's "new generation" along with Funky Threads, Girly Things and Third Millennium. When wholesale orders began to arrive, Nicky quickly realised, "I needed a Simone. Even invoicing was way over my head."
"They had an exuberance that was powerful," says Judith Cook, who continued to be a champion of the brand at Vogue and later at The Australian Women's Weekly. "They've always had this very distinct identity and that has contributed to their longevity." It's part of the reason Zimmermann is still around, 32 years later, and nobody under 50 can remember what Third Millennium sold.
Risky business
When a five-year-old Zimmermann put on its first runway show, at the first Australian Fashion Week, the idea was to make as big a splash as possible. The Zimmermann sisters decided to show swimwear on the catwalk, a choice that would define their next decade – at least – of business, and propel them onto the world stage.
"What can we sell that has fashion credibility internationally, and, from a production point of view, can be sold, produced and delivered within a time frame?" Simone told The Australian Financial Review in 2006. The pragmatic decision worked.
Simon Lock can't remember when or how he met Nicky and Simone. But when he was raising funds for the first Australian Fashion Week, and trying to get designers to stage a show, he knocked on their door. "I almost had to convince them they were ready to present," he says on the phone from Paris, where he lives part-time. Lock sold AFW to New York-based IMG in 2005 for an undisclosed amount; he now owns Ordre, a software platform for the fashion industry. "But once they were convinced, they really threw everything they had at it."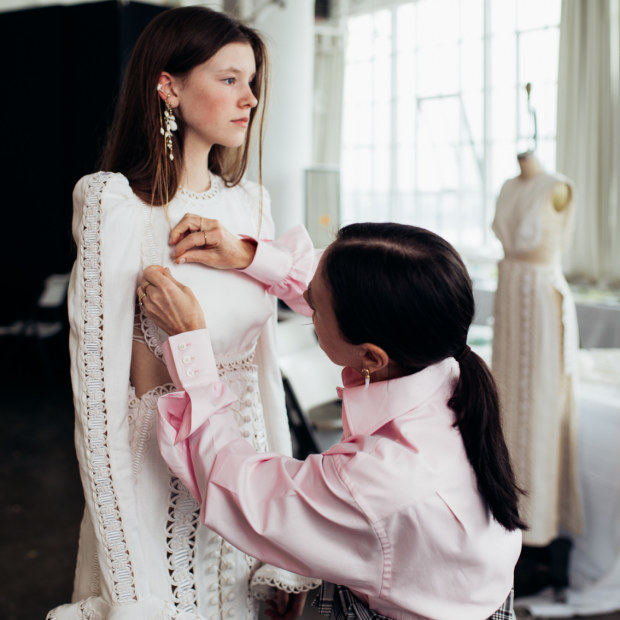 Haircare brand Clairol gave $20,000 towards the show. Emma Balfour and Sarah O'Hare (now Murdoch) both walked. And unbeknownst to the sisters, a swimwear buyer based in New York watched the show, via CNN's Style with Elsa Klensch. Within weeks, Zimmermann was stocked at Bergdorf Goodman, the luxury department store on Fifth Avenue.
Simone says the pair are not risk-takers, but fashion is an inherently risky business. It's expensive to produce samples, to put on a show, to open a store, to make clothes for a department store that may not pay for its order on time. It's all very fraught.
"I guess we have taken a lot of small risks, and together it all adds up; one step leads to another," says Simone. "The stakes do get bigger." For 25 years, the ball was entirely in Nicky and Simone's court, but now they answer to shareholders on the other side of the world.
Neither will be drawn on questions about the investment – they are famously tight-lipped when it comes to money talk – but Simone says, "I can't remember ever holding my breath about a decision. We have really taken it a day at a time. It's that constant challenge to make ourselves better, but not at the expense of what is already there."
It helps that the sisters say they are in concert on the big issues. "Anything really important, we have never disagreed," says Simone. "We have tit-for-tat, for sure. It's best if we don't argue in a board meeting, because we sound ridiculous, but our arguments always end in a laugh. All of the big decisions, though, we have always agreed on."
On further thought, Simone says that their biggest risk was opening a store at Westfield Bondi Junction in Sydney in 2003. But even this worked out in their favour. "We hedged and hedged and because they really wanted us, as a result we got a really good deal," says Simone. (A source who worked on the negotiations concurs. "Yeah, they got a really good deal," she laughs. "We wanted them very badly. They basically didn't pay rent.")
When Style Capital made an investment in Zimmermann, it was rumoured that a condition of the agreement was that Nicky and Simone stay on for a minimum of five years. The deal was made in 2020 – just two years remain. Is there a Zimmermann without the Zimmermanns? The sisters declined to answer that, but Lock imagines any such transition will be handled expertly. Style Capital also refused all requests for an interview.
"I see a future for Nicky and Simone as part of LVMH or Kering," he says. "There is no ceiling for them. I really do believe that." And although other brands, such as Sass and Bide, have suffered post-sale, without their founders, he thinks Zimmermann would survive in such an event. "They have built a remarkable team around them," he says.
"I think if that happens, it will be about a design principle handed on to a new designer. Nicky might be the Valentino – a guiding visionary while someone else takes the reins. But I don't think that will happen for a while."
And someone else can take the reins, says Lock, because the core design has always been strong.
Laura Brown, the former editor of US InStyle and now a media consultant, says Zimmermann's clothes simply make women look great. "When you wear their clothes you feel confident, you feel pretty, you feel interesting." Brown thinks the company hasn't needed to rely on an It bag, as many others have, "because the clothes sell. They haven't needed to bolster anything. It feels like wearing vacation clothes all the time, but it's never contrived."
They are funny, too, says Brown, who describes Nicky's laugh as "thigh-slapping" and notes, "I'm always leaving the party before them. They are here for a good time."
Everyone who knows the Zimmermanns agrees that, as well as being wildly creative and astute businesswomen, they are really, really nice. That might not seem like it matters. But that's how you sell dresses, too, because it's how you retain customers and hire people and create a company where people want to work.
"They are good people," says Lock. "I've been working with them for 30 years and I've never heard of anyone who has fallen out with them. I've worked with a lot of designers who are not nice to work with. Yes, creatively they are astonishing and as business people they are very clever. But they are just decent people. And that counts for a lot."
Brown concurs. "They have not changed. They haven't bought into so much of the behaviour that goes along with fashion. And I think that has been because they've always been secure in what they do."
For all their sunny disposition, the sisters feel the weight of responsibility. The buck still very much lies with them.
"You don't have the chance to have a bad collection," Nicky says. "And if you have one, you need to know that really quickly and fix it. If there is a day when the sales aren't where they should be, I look at me. I don't look at the weather or what else is going on. It's us – what have we done, what can we do? And that is both a burden and very helpful. Because you realise that you are in control. You have to be, and the work never ends."
Three decades after she started at the markets, Nicky is still behind those clothes. She puts their success down to patience. She remembers being itchy to get to the next rung of her career ladder. But now she's grateful for the early, slower years, when days at the markets ended with beers at the pub. These days it's more like martinis at Hotel Costes.
"Fashion is about time, in a lot of ways," she says. "The passing of it, newness, all of that. But I think we need to return to the days when we gave designers time to find their feet. The expectation that a designer is going to be as good as they can be, in their first collection … that is unfair. They need time to grow and learn.
"This," she says, gesturing to her office behind her, "isn't built after five or even 10 years. You have to take your time, and get to know who you are. You can't cherry-pick from other designers. Having your own clear point of view is the most important thing, and you won't have it straight out of the gate."
Well. Not unless you're Zimmermann.
The April issue of AFR Magazine, the Fashion issue, is out on Friday, March 31 inside The Australian Financial Review. Follow AFR Mag on Twitter and Instagram.