Gyton Grantley jokes he has made a career out of lying – all actors do – so the opportunity to test those skills on the reality whodunit show The Traitors was intriguing, until he started playing the game.
"You just don't know who's who and it starts driving you crazy," says Grantley, who won the Logie for most outstanding actor in 2009 for his portrayal of underworld boss Carl Williams in the hit drama Underbelly. "Others may join you in your suspicions, but then you double-guess and think, 'Do they really agree or are they leading me on?' My trai-dar [Traitor's radar] was broken from the start and I didn't know how to recalibrate it."
Grantley is one of several well-known faces drawn into series two of The Traitors, which has recruited several celebrities, such as Survivor's Luke Toki, Below Deck's Hannah Ferrier and My Kitchen Rules' Ash Pollard, to play alongside the "civilian" recruits.
It's a change that brings the show more into line with its US and Dutch counterparts, which are stacked with actors and reality stars, as opposed to the smash-hit British version that relies on everyday people to play the game.
For Toki, who braved the physical and psychological punishments of Survivor twice and won Big Brother VIP, The Traitors was particularly intense. "You're constantly having to defend yourself and be like, 'No, I'm not [a traitor],'" he says. "It's exhausting. Most nights, I was going to bed with a headache. You have to defend yourself to the grave in there."
Hosted by Grantley's Underbelly co-star Rodger Corser, the first season of the Australian series debuted to modest ratings locally in 2022. But it has since aired on BBC Three in the UK, where The Guardian called it "wild, magical TV", and streamed on Peacock in America. The series is the product of Dutch creator Marc Pos, who was inspired to create a show in which the contestants couldn't trust one another after reading about the mutineers on the 17th century Dutch ship Batavia.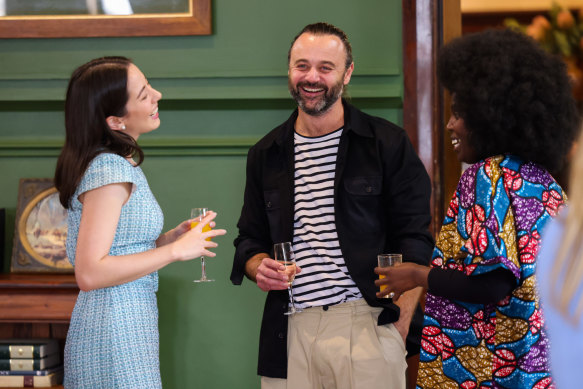 "The core of this story is that people didn't trust each other and what it said is that people can't live in a dishonest world," Pos told Variety. "I started thinking about how to create a world where people can't trust each other and put them in a bubble."
Corser believes the show's word-of-mouth success is due to how it taps into basic elements of human nature. "It's quintessential to being human, truth or untruth," he says. "We've all been in a situation where we've had to tell a lie and some of us are very good at it and some of us break out in hives and a sweat."